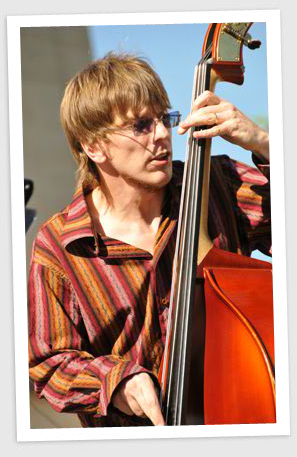 Radio Stations all over the world can now download the artists latest tracks for FREE. Click here to go to the artists Air Play Direct site

Welcome to the official Dave Sharp website. Bassist Dave Sharp's warm tone and driving rhythms have made him one of the most exciting jazz talents on the Detroit scene today.
Dave Sharp was born and raised in Detroit, Michigan where he was exposed to and inspired by the city's rich music heritage. While earning a degree from the University of Michigan, Sharp became deeply devoted to the study of jazz and the perfection of his art. This devotion culminated in a move to San Francisco where Dave studied jazz and music theory with legendary bassist Herbie Lewis (McCoy Tyner, Cannonball Adderly, Les McCann) at the New College of California.

While living in San Francisco, Sharp served as bassist and composer for the modern jazz ensemble the Spheres of Influence and the Killer Joe Trio. After touring the West Coast with rock legends THE MELVINS, and playing a run of jazz venues in Tokyo, JAPAN, Sharp returned home to the metropolitan Detroit area in 1998, where he continues to compose, record, teach and perform live in front of appreciative audiences.
We would like to extend a warm welcome to you and we hope that you enjoy your visit. Remember to check back regularly for all the latest news and updates and while you are here you may want to download some songs from iTunes or from the shop.