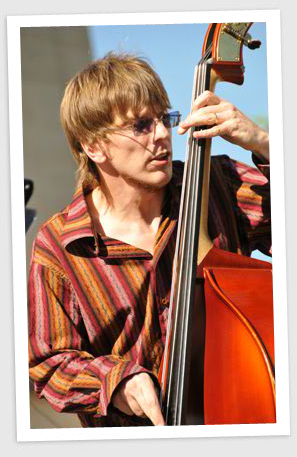 Radio Stations all over the world can now download the artists latest tracks for FREE. Click here to go to the artists Air Play Direct site

Bassist Dave Sharp's warm tone and driving rhythms have made him one of the most exciting jazz talents on the Detroit scene today.
Dave Sharp was born and raised in Detroit, Michigan where he was exposed to and inspired by the city's rich music heritage. While earning a degree from the University of Michigan, Sharp became deeply devoted to the study of jazz and the perfection of his art. This devotion culminated in a move to San Francisco where Dave studied jazz and music theory with legendary bassist Herbie Lewis (McCoy Tyner, Cannonball Adderly, Les McCann) at the New College of California.
While living in San Francisco, Sharp served as bassist and composer for the modern jazz ensemble the Spheres of Influence and the Killer Joe Trio. After touring the West Coast with rock legends THE MELVINS, and playing a run of jazz venues in Tokyo, JAPAN, Sharp returned home to the metropolitan Detroit area in 1998, where he continues to compose, record, teach and perform live in front of appreciative audiences.

Dave Sharp's Secret Seven is "World Jazz for the Jazz World". It transcends musical, national, and ethnic boundaries by re-interpreting, not fusing, influences from Africa, Asia, the Latin world, Blue Note Jazz, and that other planet, New Orleans.
Secret Seven features Dave Sharp on electric & upright bass, Chris Kaercher (Aretha Franklin, The Four Tops, The Temptations, and the O'Jays) on tenor saxophone and Eric "CHUCHO" Wilhelm on drums & percussion.

Sharp and his Secret Seven group create music that makes you feel good and are highly capable of exploring more nuanced and  reflective places, yet always making sure to take the listener along wherever they are going.
Dave Sharps 'Secret Seven' Album, released in August 2010, features Dave Sharp on electric and upright Bass, leading a steady groove and laying the foundation for the bands irresistable  melodies. The album has  been critically acclaimed globally and continues to develop more and more fans. 
Blue Pie has licensed Dave Sharps track "The Seventh Secret" into  the 2011 Australian independent film "The Argues: The Movie". Check out www.thearguesthemovie.com.au
Dave Sharp is part of the Blue Pie Family of Artists. For More Information on Blue Pie Please Visit www.bluepie.com.au